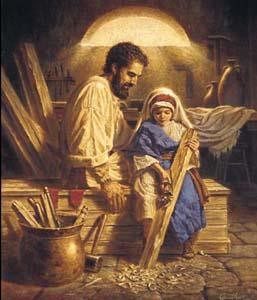 The Solemnity of St Joseph -19th March
Today the holiness of Joseph is revealed to us. He is the model we are to imitate. He had to be confronted with the distress of the unknown and its tormenting anguish, so that he might move from the observance of the law to the uprightness of faith.
Joseph, a just and God-fearing man, did not wish to embarrass or punish his espoused wife, Mary, when he discovered she was pregnant. Joseph, no doubt took this troubling matter to God in prayer. He was not hasty to judge or to react with hurt or anger. God rewarded him not only with guidance and consolation, but with the divine assurance that he had called Joseph to be the husband of Mary and to assume a mission that would require utmost faith, confidence, and trust in Almighty God. Like Mary, Joseph is the model of faith to us. He is a faithful witness and servant of God's unfolding of redemption.
Are we ready to believe in the promises of God, even when faced with perplexing circumstances and what seems like insurmountable problems? God has not left us alone, but has brought us his only begotten Son, our Lord and Saviour Jesus Christ.