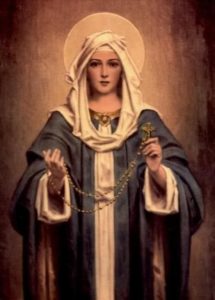 Daily Rosary for Ireland @ 9pm every evening
Dear friends, in these difficult times of worry and challenge, we need to go to our loving God for help and strength on behalf of our families, our communities and our country. One of the most powerful prayers in Christian history is the holy rosary of our Blessed Mother Mary. We need our Mother Mary's powerful protection and intercession. Again and again it has delivered people and nations from danger and threats. And so all the Dominican fathers here in the Friary will be joining thousands of people and families around Ireland at  9pm every evening, praying the Rosary for Ireland. Unite with us in your homes or wherever you are as one family in Christ, under the protection of our heavenly Mother, calling down the help of God in this great spiritual battle. Please encourage your friends, your family members, your social media contacts and your neighbours to join us in this great and powerful effort. Blessed rosaries will be available for free from the Friary hall door for anyone who wants one. 
Our Lady, Queen of the Holy Rosary, pray for us!
For those as yet unfamiliar with the Rosary and how to pray it here is a very good link: https://www.rosarycenter.org/homepage-2/rosary/how-to-pray-the-rosary/