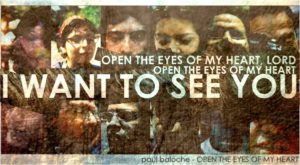 The 4th Sunday of Lent (Jn 9:1-41).
Open our eyes Lord that we may see!
In today's Gospel, Jesus opens the eyes of the man born blind. What was darkness has now become light for him. During these difficult and concerning days it can seem that darkness is looming around us. To date 250,000 have contracted the 'Covid-19' illness worldwide; over 100 million people are in 'lock down'. Sadly over 11,000 people have died as a result of the complications associated with the illness. People are fearful about what might happen to their health, their loved ones, their homes and their jobs. We pause and give thanks for all our wonderful healthcare professionals and all those, in so many fields, who are putting themselves at risk for the sake of others.
Already important questions are being asked about how we are living as human beings, concerns about the most vulnerable, the worries of family life and the profound questions of life and death, and our relationship with self, others and God. We are faced with reality and the true meaning of our lives. If we are not careful, we could become overwhelmed by these concerns. However, this reality is not all darkness- death is not the final end.
God loves us and he is by our side. He loved us so much that he came down on earth to help us and set us free. By his words and actions, he showed us that he is a God of love and mercy. He suffered death by crucifixion that we may go free- 'Greater love than this no man has than to lay down his life for his friends'(Jn15:13). He is a God of action. He is near us and is willing to help us in our situation. Yes, sadly, for many, God has been pushed aside, and yet he remains steadfastly near us. In this time of concern and creeping darkness, we earnestly pray that he would open our eyes to see the light of his presence.
Jesus said, 'I am the light of the world' (Jn 8:12). He is the light showing us God's unwavering love and helping us to love one another- 'I have told you these things', he said, so 'that my own joy may be in you and your joy be complete' (Jn15:11). With love and profound mercy, God awaits our return to him. Let not the darkness take our peace away, rather let us, with faith, turn to the One who loves us and in whom we can place our trust.