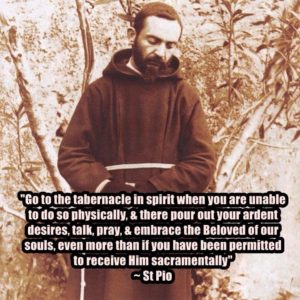 What is Spiritual Communion?
During these extraordinary days when it is difficult to receive Holy Communion, we are reminded and encouraged to re-engage in the noble practice of making Spiritual Communions. Down through the ages many great saints of the Church, such as St Catherine of Siena, St Teresa of Avila, St Alphonsus Liguori, St Jean-Marie Vianney, and St Pope John Paul II, have encouraged the practice of making spiritual communions in addition to sacramental reception; and particularly during times when we are unable to physically receive Holy Communion. Our own dear Dominican brother, St Thomas Aquinas, teaches that spiritual communion consists of "an ardent desire to receive Jesus in the Holy Sacrament and a loving embrace as though we had already received Him.".
More recently, Pope Pius XII, reminds us that '[The Church] wishes in the first place that Christians – especially when they cannot easily receive holy communion – should do so at least by desire, so that with renewed faith, reverence, humility and complete trust in the goodness of the divine Redeemer, they may be united to Him in the spirit of the most ardent charity (Mediator Dei #117)'.
How does one make a spiritual Communion?
– Simply by desiring it.
The desire to receive spiritual communion is particularly appropriate while praying in front of the Blessed Sacrament or when we are watching or listening to the celebration of the Eucharist via various media outlets. However, it can be made at any time. Although the desire to receive is sufficient, many prayers have been penned to help articulate that desire. For example:
'My Jesus, I believe that You are present in the Most Holy Sacrament. I love You above all things, and I desire to receive You into my soul. Since I cannot at this moment receive You sacramentally, come at least spiritually into my heart. I embrace You as if You were already there and unite myself wholly to You. Never permit me to be separated from You'.
Or,
"O Jesus, I turn toward the holy tabernacle where you live hidden for love of me. I love you, O my God. I cannot receive you in Holy Communion. Come nevertheless and visit me with your grace. Come spiritually into my heart. Purify it. Sanctify it. Render it like unto your own."
Spiritual Communion can be repeated many times during the day. During the days and weeks ahead, we encourage you to pray many spiritual communions. Maybe you would consider offering many up for the swift end of the pandemic and for the protection of our loved ones especially the sick and vulnerable. Let us also pray for all who, in so many ways, will have to put themselves at risk to care for others.